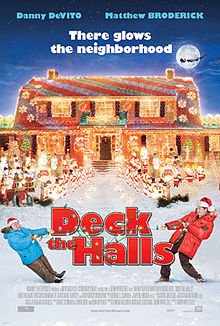 Joseph Unger '15
What's funnier and puts you more into the Christmas spirit than watching 93 minutes of Matthew Broderick and Danny DeVito acting like children as they pull acts of revenge on each other all in the name of the holiday season? Well, hopefully any holiday comedy that falls within the next 23 movies.
In Deck the Halls, Matthew Broderick stars as Steve, a family man who runs the Christmas spirit in his town, until his dominance is challenged by his new neighbor, Buddy (Danny DeVito), who in the first part of the movie builds a light display on his house to be seen from space.  Antics ensue as Steve's jealousy harps away at his holiday spirit and slowly drives both him and his neighbor away from their real purpose for partaking in holiday festivities: being with their family.
This Christmas movie falls at #23 on our list for several reasons.  First off, it ranks above Batman Returns and Die Hard due to the fact that it is in fact a Christmas movie while the other two made our list only because they made the holiday season a backdrop to their movie.  I personally would rather watch 1980's Bruce Willis or Danny DeVito as a dramatic man-penguin any day in December over Devito and Broderick's roles as cheesy neighbors in a subpar holiday comedy.  The main problem with such a movie is that a majority of the funny antics of the movie fell within the trailer, which little for me to actually laugh at when I saw it a year later.
If you're looking for a corny movie to appease your holiday hunger, then go out and rent this, but otherwise, wait for better suggestions as we move up the list.